Description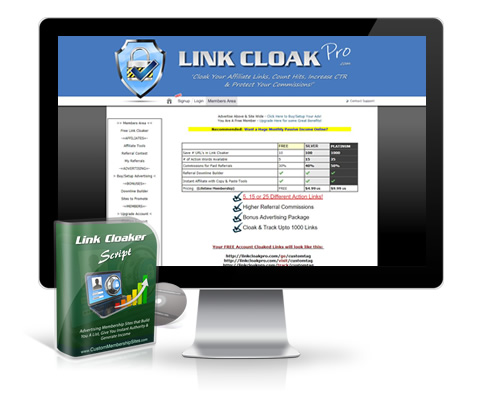 This profitable traffic site is using our Link Cloaker Script. It has a great domain name and is 100% complete with all features, graphics, content and offers! Simply enter your payment processor details and you are ready to profit. Change and edit the sites and add your affiliate programs and banners through-out the members area.
Domain: LinkCloakPro.com – Transferred to your domain registrar for full ownership.
Membership: 0+ EXISTING MEMBERS Re-launch the site yourself!
Functionality: 100% Complete with all features, graphics, content and offers.. ready for you to launch!
Build A List: Membership sites are the same as building a list. You will have a massive list of members to send promo emails to. Set the Autoresponder to send a series of emails automatically.
Profitable: Very profitable and great converting One Time Offers, Downsells, Upsells, 2 Level Upgrades and Login Offers.
Affiliates: Add your own favorite affiliate links all throughout the site, 468×60 banners, 125×125 banners, login ads, logout ads plus more spots.
Hosting: This site is currently on it's own hosting account which you can simply take ownership of yourself if you have one of our Hosting Accounts. Or, you may be able to transfer this site to your current hosting service provider. Although our hosting is recommended as we are Safelist and Traffic Exchange friendly.
Ownership: You will be emailed the Admin login details after payment and the site will be transferred to your hosting account, unless you take over the current sites hosting. I can also transfer the domain name to your domain registrar. Then you will completely own the site.
Support: There are training videos provided for this membership site script and you can also email Phil any time with questions and for support of any kind.
Ready to Make Money Online? Add this site to your cart to get Admin access.
Everything Included With Your Site
Exclusive Site Owner Bonuses
---
How do these Membership Sites make money?
Members signup free to use the tools on the membership site e.g. posting free ads to get traffic, cloak links or build their downlines. They are then taken through the special built in sales funnel that these scripts have. Free members have the chance to upgrade their accounts to a higher level that comes with premium advertising that is shown through-out the site. You receive the payments for these ads and upgrades via Paypal.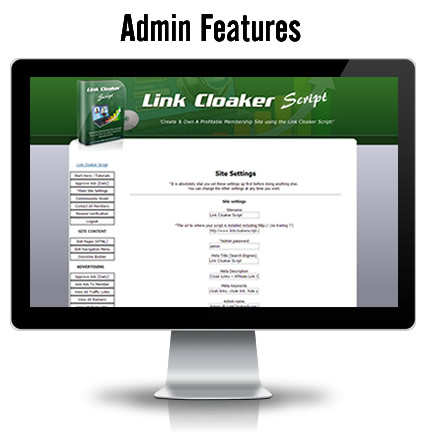 Demo Admin Area    Live Membership Site

Below shows you each page and section in the Admin Area of the Link Cloaker Script.
Check out the Demo Admin Area
Start Here / Tutorials – Admins have access to the video tutorial links for the script.
Approve Ads [Daily] – This is where the admin needs to login and come to every day to check and approve ads. Don't approve ads with broken links or wrong banner sizes etc.
*Main Site Settings – This is where most of the core settings are edited. (Main Admin Settings list below)

Set the Admin login name and password
Payment options for Paypal, Payza, Safepay, Moneybookers
Set signups as 1st level upgraded members
Referral Contest Date
Name and Price Membership Levels
Commission exchange rate. $1 = # of points
Set pricing of advertising in dollars & credits
Set referral % commissions for each level
Set credit amount each level gets for referrals
Set referral % commissions for when referrals buy advertising
Set how often members can post free ads
Set how many ads a member can save
Set credit amount each level gets on signup
Set credit amount each level gets for clicking links
Set number of rotator links
Edit the main font type, colors, navigation rollover
Set number of cloaked links
Enable and set Drawing, price per points

Commissions Owed – Shows what members are owed commissions after now and who have waited the 3 days for commissions to be ready. Commissions can be downloaded into a text file so that admin can instantly pay commissions via PayPal masspay!
Resend Verification – This sends the verification email to all members to haven't yet verified their account. Script Automatically deletes all unverified accounts after 24 hrs!
Logout – Admin can log out of their account.


SITE CONTENT:


Downline Builder – Admin can add unlimited sites to their downline builder. Members will join under each other helping everyone build downlines and signups.
Edit Pages [HTML] – This is where you can add and edit the html content for your site. The front pages, offer pages, members area pages etc.
Edit Navigation Menu – Create new menu items for members, re-order them or activate for certain membership levels only.


ADVERTISING:


Add Ads To Member – Admin can manually add banners, login ads or any other type of ad to any members account. As the admin, give your own members account a ton of ads to get your site started.
View All Traffic Links – View the traffic link ads in the system that members have submitted.
View All Banners – View the banner ads in the system that members have submitted.
View All Text Links – View the text ads in the system that members have submitted.
View All Login Ads – View the login ads in the system that members have submitted.
View All Nav Links – View the nav links in the system that members have submitted.


ADMIN ADS:


125×125 Banners – Admin can add their favorite 125×125 banners to get shown randomly with other members banners.


EMAIL:


Contact All Members – Ability for admin to email all members, just Free members, any level upgraded member, or only members that joined after a certain date!
Autoresponder Tool – Admin can setup automated emails with the build in autoresponder tool. Set the level of membership for each email or send to all. Set the days apart that each email is sent.


MEMBERSHIP:


View Members – Admin can view a complete list of all members on the site. Shows username, email address and who their referrer was. Ability for admin to login as any member by clicking on a member name.
Search Members – Search for a member by using a username, email address, paypal address, or name.
Upgrade Member – Admin can manually upgrade members to any level.


AFFILIATE TOOLS:


Add Promo Banners – Admin can add new promo banners for affiliates to use. Adding here will automatically add them to the members area, ready for affiliates to use with their referral URL built in.
Add Promo Emails – Admin can add new promo email ads for affiliates to use. They will show in the Tools & Stats or affiliate tools page automatically.


OFFER PAGES:


OTO Settings – This is where you edit the settings for the One Time Offer. Change the price, advertising amounts and account level upgrade that members will receive after purchasing.
Downsell Offer – Change the settings for the downsell offer page that members will see after the OTO.
Login Offer Page 1 – Change the settings for the offer 1 page. This page can be used for new offers that members will see after logging into their account.
Login Offer Page 2 – Change the settings for the offer 2 page. Use for special upgraded accounts or special ad packages that members can buy.


PROMOS & PRIZES:


Edit Promo Codes – Add and edit promo codes for members. Edit the total amount of redeems for each code and add the advertising or account upgrade for each code.
Prize Contest Settings – Edit the prizes that members get when completing a prize reward level.


SITE STATS:


Top Referring URLs – Shows the top referring URLs. The web address that has brought the most signups to your site.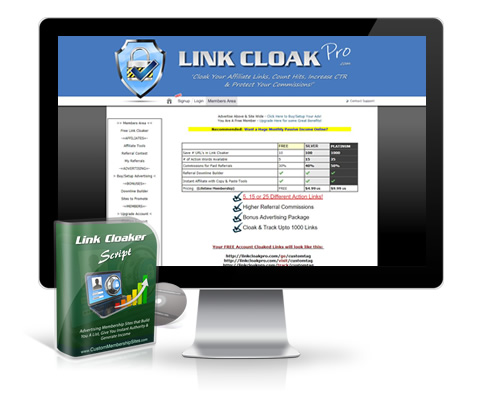 List of features and tools that members will have access to with the Link Cloaker Script.
Check out the Live Membership Site
Free Membership – Members can signup free and have the chance to upgrade their accounts to higher levels or buy advertising.
Cloak Links Feature – Members can cloak a certain amount of links based on their member level. They can also get 5,15 or 25 different action words.
Instant Affiliates – Members are instant affiliates with a unique URL and can earn commissions for promoting and getting sales.
Downline Builder – Members can signup and add their URLs to the Downline builder.
Cut & Paste Tools – Affiliates get easy to use cut and paste code for the promo banners and emails.
Banner Preview – Members can preview banners when they set them up.
Free Promo Codes – Members receive a free welcome promo code giving them x10 text links and x10 banner ads. This gets members excited and signing up to the site.
Ad Credit System – Members receive points for clicking on banners, traffic links, ad credit links and text ads.
Earn Credit Prizes – Members can click a certain amount of ads every day to be in to win ad prize packages.
Easy To Promote  – Members have instant promotional emails, banners, tweets plus more tools to easily promote your site.
Save Ads – Members can save their ads, which enables them to setup easily next time.
Referral Tracking – "Came From" feature under "Tools & Stats" showing members where their referrals are coming from
Automatic Upgrades – Members are upgraded automatically and advertising is added automatically through PayPal's IPN feature.
One Account Only – The script only allows 1 unique IP address to signup – preventing fraudulent signups.
Auto Account Deletion – All emails contain an instant account deletion link! This will save you and your members time if anyone wants to delete their account.
Forgot Password – Forgot password feature on member login page.
Verified Accounts Only – Members cannot use website until they have verified their account.
Why do I need a Membership Site?
'Membership sites keep people coming back to your site so you get daily traffic. Members will refer others increasing traffic and signups with a viral effect! You are building your list as the admin and can email members any time you like.
Think about it.. you've been trying to make money online by yourself for far too long. It's time to take action now!
The missing link you've been searching for.. to finally turn your hopes and dreams into reality is just a few clicks away.
Imagine opening your email inbox every morning and seeing a flood of new sales notifications from around the world. You then flick over to your online banking and see the cold hard cash piling up in your account faster than you've ever seen before.
That's what I want for you, and I know it's what you want for yourself, so order a custom membership site now and let's get you started today!'
Phil @ CustomMembershipSites.com