Description

Script License for 1 Domain

FREE Script Installation

3 Months Support FREE

BONUS Lifetime Access to MembershipSiteSuccess.com
Complete Custom Site + Bonuses
Script License for 1 Domain

FREE Script Installation

3 Months Support FREE

Template Graphic Design + 12 Banners

Domain Name Registration

BONUS: Hosting (3 Months)

BONUS: Facebook Fanpage

BONUS Lifetime Access to MembershipSiteSuccess.com
Everything Included With Your Site
Exclusive Site Owner Bonuses
Get Started Now In 3 Easy Steps..
Step #1:  Come up with a Domain Name that you like.
Step #2:  Click 'Add to cart', fill in your details and complete payment.
Step #3:  Get your site designed, receive email with Admin Login Details, Exclusive Bonuses followed by support from me.
What is a 'Script'?
A 'Script' is the code, files and database that makes your membership site work. It includes an Admin Control Panel, Members Area and all the necessary files and coding to automate features of the sites. These scripts are created using PHP. Under the 'Edit Pages' section, Admin can add html that updates certain parts of your site e.g. offer pages, members area, front page, login ads etc.. There a tons of areas to edit, making these scripts very easy to customize!
NOTE: If I setup the site for you, you don't need to know any technical knowledge at all, these sites are easy to operate and take little time!
Read customer Testimonials from happy membership site owners.
Requirements for the Script to work: Domain Name, Hosting Account, Graphics
See what others are saying..
'As an Internet Marketer for over 17 years, I have worked with several Internet Marketers, but no one, and I mean no one stands out in terms of service like Phil from CustomMembershipSites.com. During my 17 years of Internet Marketing I don't lightly give out a testimonial to anyone, unless that individual has proven him/herself well-deserving. I have used Phil's services time and time again and he has never failed me. As you may know, customer support is what is often lacking in this business, but Phil is the exception in this area. He's always willing to help and yes, he works with you until your problem is resolved. If you're thinking about building a real online presence with a real online business, then you must try his custom membership sites for yourself. I have a network of theses sites which are my money makers. I am sure you will join me later in expressing similar sentiment about Phil's services.' – TrafficListPro.com

'If you are still searching for your ideal online business, or if you have one, but you need to enlarge it and build a quality list for it. Then owning one of Phil's Custom Membership Sites should be your very next step. Do not hesitate, just go for it. Phil will do his best to help you out and you will have your own site in no time. All of his creations are clean and visually attractive. He will work with you on your ideal graphics and will accommodate all your preferences. You do not need any extra knowledge, the admin panel is intuitive and simple to move around, there is nothing harder than in any average backoffice panel. All together, I highly recommend Phil's sites and service!' – PromoteAdsPayPro.com

'I've earned hundreds of thousands of dollars every year since 2007 from owning advertising sites and Phil now owns the main scripts that helped me achieve that success! Phil knows these scripts like the back of his hand and knows how to over-deliver when it comes to helping site owners succeed online. If you want to get into the Internet advertising space and turn it into a long-term profitable business Phil is the go-to guy to help you. You can't go wrong with Phil in your corner.' – MyTrafficSite.com

'I was impressed with Phil's sites but I needed something specific.  Phil was able to pinpoint my goals and made modifications to set me up with the exact site I was looking for. From the launch Phil continued to earn my trust with reliable support and patience.  Phil is one of the "Good Guys" in the business and I recommend him without reservation.' – ListAdProfits.com

'I would highly recommend a membership site to anyone who is serious about making money online. The setup process was very smooth and problem free. My website was up and running the very next day after purchasing. Phil also provides excellent customer support and is always there to answer any questions you may have. Rest assured you're getting a very lucrative business from a very supportive seller. I never regretted my decision to purchase a membership site. Thanks!'

'I have been wanting my own membership site for a long time and I can only thank Phil for making it happen. Not only I got it, but it is also fully featured with everything a marketer and site owner needs to succeed. It has been very profitable and this is just the start! Phil himself, is a top guy, always available for any questions and great costumer support. Not only that, my affiliates are having a kick promoting my site. So thanks for the design and the included features that makes affiliates happy to promote it even further, as they too are making great commissions from it!' – InstantCommissionList.com

'After seemingly countless Google searches and checking out site after site, I FINALLY found what I was looking for when I met Phil at CustomMembershipSites.com.  I have seen and regrettably purchased some "not so professional" scripts in my day.  I knew there had to be someone out there offering top quality solutions at a reasonable price. Having been online a while, I leaned to begin a dialogue first with vendors to "feel them out", if you will, before I Paypal my hard earned money. Phil earned my trust immediately, answered all my questions, and subsequently, I purchased a script. The beauty part is that he continued his excellent customer service after the sale!  He promptly addressed every concern I had until I was completely satisfied, which is a breath of fresh air!  Props to Phil and I'm looking forward to expanding my business using his services.' – ViralCryptoClub.com

'I bought a new web site from Phil at custommembershipsites.com a couple of months ago. He has been, and continues to be a great help. Site is up and running nicely having members join, use the site and spent a little money promoting. Very happy with the experience for me Phil is an efficient go to! I highly recommend owning your own site!' – MyViralAdTraffic.com
Would you love to start your own Traffic Ad Board Script Membership Site..
but not knowing where to start holds you back?
If so, then I know exactly where you're coming from.
There's nothing more frustrating than buying some old script full of bugs, trying to install it yourself, having to find a coder, then getting someone else to do graphics and finally someone who can edit html content. And to make matters even worse you need other companies for domain names and hosting accounts.
You end up feeling frustrated because you're trying to figure out everything on your own and nothing you do seems to get you to that next level.
Until now the only way to create an Ad Board Membership Site would be to hire a very talented PHP coder, graphic designer, an html editor and probably an internet marketer to create a successful system.
However the big problem with all of these options is that they are ridiculously expensive. For a start, a coder could take months to code and create the types of features needed.
However, today I'm delighted to share with you my brand new Ad Board Script that is capable of building you a list, increasing your authority and making you a passive income online from the comfort of you home! I know that may sound unbelievable, but in a moment you'll see how it all works, so just keep reading.
My name is Phil and since 2008, I have helped hundreds of internet marketers and entrepreneurs just like you break free from the grind of creating a profitable online business, and finally achieving success.
The original EZAdBoardScript.com by Frank Salinas has now been bought by Phil @ CustomMembershipSites.com.  This new version of the script available has had over 2 years of updates, bug fixes and newer mods similar to whats on my site InstantCommissionAds.com.
Whether you're trying to build a list, make money online or business a lasting business, then this Ad Board Script is the missing piece of the puzzle you need to finally make your dreams a reality.
If you're sick and tired of promoting other peoples products, or trying business models that always end up failing, then you're going to love owning a Membership Site.
How does owning an Ad Board make money?
Members signup free to use the tools on the membership site e.g. posting free ads to get traffic, referrals, cloak links or build their downlines. They are then taken through the special built in sales funnel that these scripts have. Free members have the chance to upgrade their accounts to a higher level that comes with premium advertising that is shown through-out the site. You receive the payments for these ads and upgrades.

Why do I need an Ad Board Script Membership Site?
Membership sites are one of the best business models online! Membership sites are sticky, meaning that your visitors and members will return often and use your site. They will be actively logging into, sometimes multiple times a day to use your tools, learn more, build their down lines, earn commissions plus a whole range of other great reasons why they will return.
Email your membership database – All members will be on your database list so you can email them with news and updates regarding you site, new offers, free promo codes, new sites features.. You get the idea. The possibilities are endless, and all these are legit reasons to email your members. They will love to hear from you when they know they might be getting a free promo code from you, or some latest news, or product you are promoting.
It's a great way to promote your favourite programs in one place – If you are like me and have a million things on the go, tons of things to promote and not enough time, then having a membership site is a great place to promote everything in one place. There are spots all over the site where banners can be added. On the front page, login page, as a member logs in, the members area, under the navigation in members area, the site footer, logout pages plus a whole lot more spots!
Some of the great features of the Script:
Membership Levels – (x3) Free, PRO, VIP
Profitable Offer Pages – (x4) OTO's, Downsells, Upsells & Login Offers giving you a complete sales funnel
Admin Area – Change prices, commissions, email members.. control everything
Members Area – Double optin membership system with sales funnel and complete members only area
Affiliate Program – Add Banners, Solo Emails, Links & more. All members are instant affiliates
Edit Pages Update – Admin can easily edit more parts of the site like Google Analytics Code, Social Buttons Code, Footer Banner
There are old versions online being sold by people that shouldn't be selling it, and are selling it cheap. When you purchase my Ad Board Script you can be assured this is the best version out there with a ton of cooler mods added like an HTML editor for admin, Auto-referrals for upgraded members, 6th Level VIP Founding Membership, Autoresponder for members plus a ton more updates that make this script the best out there!
Get easy to follow steps to install the script with our Installation Instructions and then learn how to be an Admin with our informative Video Tutorials and exclusive access to MySuccessfulSite.com giving you more resources to succeed with your Downline Builder Script. A Domain Name and Hosting Account are required to install the script on. You will have your site up in no time at all, and ready to send traffic and profit!
Ad Board Script Requirements – cPanel Access, PHP enabled, ability to setup cron jobs, minisite graphics template and banners for affiliates to use.
But don't listen to me – Here's what users of my Ad Board are saying about their sites.
'My new fully custom made site really rocks! I've been looking for a fresh new ad Board script for a while. Now I've finally found it! Everything has been done including domain name, graphics and banners. The fresh new design and layout is definitely a magnet for attracting new referrals! It's loaded with so many cool features, it's been a huge hit with my members. Personally, I think your crazy charging the prices you do. It's worth way more! Lol but I'm not complaining.' – Bj Bryen, AdTrafficLinks.com
With so many amazing features, incredible results, and glowing reviews, you're probably eager to know how much it'll cost to get your own Ad Board Membership Site.
And that's understandable given that most people (on average) spend thousands to get a fraction of what you're receiving today.
However, because I've already been through the expensive development process to create the Ad Board Script, all the hard costly work has been done for you…
And so if you act now by clicking the Add to Cart button, you can have your own Ad Board Script, for just $97.
So here's your chance for success. Just click the "Add to cart" button at the top of this page.
You'll be glad to know that the Ad Board Script comes with my personal 100% Rock Solid, money back guarantee. If you don't LOVE your site, for whatever reason, then I actually don't want to keep your money. All you have to do is shoot me a quick email within a week and I'll immediately refund every cent.
Look, you can't afford to keep going the way you have been for another year.
Owning an Ad Board will open up a whole new world of fun and adventure for you.
Imagine what it will feel like to finally be recognised online, finally build a list, and finally build a lasting business online.
So grab your copy of the Ad Board Script now or a custom designed site and let's get you started today.
Phil @ CustomMembershipSites.com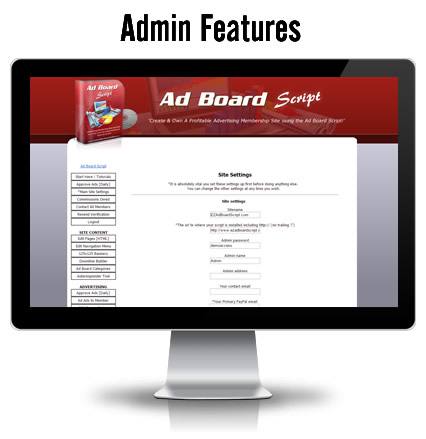 Demo Admin Area    Live Membership Site
Ad Board Script Features
Below shows you each page and section in the Admin Area of the Ad Board Script.
Check out the Demo Admin Area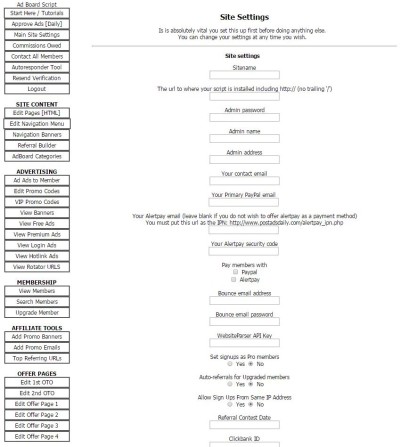 Start Here / Tutorials – Admins have access to the video tutorial links for the ad board script.
Approve Ads [Daily] – This is where the admin needs to login and come to every day to check and approve ads. Don't approve ads with broken links or wrong banner sizes etc.
Main Site Settings – This is where most of the core settings are edited. (Main Admin Settings list below)

Set the Admin login name and password
Payment options for Payza
Set a Bounce Email and password
Set signups as Pro members
Auto-referrals for Upgraded members
Allow Sign Ups From Same IP Address
Referral Contest Date
Script Affiliate URL
Set pricing for PRO and VIP account upgrades
Set payment interval, monthly, yearly, lifetime
Set pricing of advertising in dollars & credits
Set referral commission amounts for each level
Set credit amount each level gets for referrals
Set post frequency each membership level receives
Set how long each post last for on each level
Set VIP promo code daily settings
Set amount of Rotators each level receives
Set AutoPost Ads feature settings and prices
Set Profile Links section and how many links each level receives
Edit Meta tags for Description and Keywords
Edit the main font type, colors, navigation rollover
Set how many Viral Link Cloaker links each level receives

Commissions Owed – Shows what members are owed commissions. Commissions can be downloaded into a text file so that admin can instantly pay commissions!
Contact All Members – Ability for admin to email all members, just Free members, any level upgraded member, or only members that joined after a certain date!
Autoresponder Tool – Admin can setup automated emails with the build in autoresponder tool. Set the level of membership for each email or send to all. Set the days apart that each email is sent.
Resend Verification – This sends the verification email to all members to haven't yet verified their account. Script Automatically deletes all unverified accounts after 24 hrs!
Logout – Admin can log out of their account.



SITE CONTENT:


Edit Pages [HTML] – This is where you can add and edit the html content for your site. The front pages, offer pages, members area pages etc.
Edit Navigation Menu – Create new menu items for members, re-order them or activate for certain membership levels only.
Navigation Banners (125×125) – Admin can add their favorite 125×125 banners to get shown randomly with other members banners.
Referral Builder – Admin can add unlimited sites to their downline builder. Members will join under each other helping everyone build downlines and signups.
AdBoard Categories – Admin can create and delete categories that automatically creates a new page and members can post to that category.



ADVERTISING:


Add Ads To Member – Admin can manually add banners, login ads or any other type of ad to any members account. As the admin, give your own members account a ton of ads to get your site started.
Edit Promo Codes – Add and edit promo codes for members. Edit the total amount of redeems for each code and add the advertising or account upgrade for each code.
VIP Promo Codes – Add and edit the promo codes that VIP members can receive if they login daily and check the VIP promo code section. These codes will randomly rotate.
View All Banners – View the solo ads in the system that members have submitted.
View All Free Ads – View the free ads in the system that members have submitted.
View All Premium Ads – View the premium ads in the system that members have submitted.
View All Login Ads – View the login ads in the system that members have submitted.
View All Hotlink Ads – View the hotlink ads in the system that members have submitted.
View All Rotator URLs – View the Rotator URLs in the system that members have submitted.



MEMBERSHIP:


View Members – Admin can view a complete list of all members on the site. Shows username, email address and who their referrer was. Ability for admin to login as any member by clicking on a member name.
Search Members – Search for a member by using a username, email address or name.
Upgrade Member – Admin can manually upgrade members to any level.



AFFILIATE TOOLS:


Add Promo Banners – Admin can add new promo banners for affiliates to use. Adding here will automatically add them to the members area, ready for affiliates to use with their referral URL built in.
Add Promo Emails – Admin can add new promo email ads for affiliates to use. They will show in the Tools & Stats or affiliate tools page automatically.
Top Referring URLs – Shows the top referring URLs. The web address that has brought the most signups to your site.



OFFER PAGES:


OTO Settings – This is where you edit the settings for the One Time Offer. Change the price, advertising amounts and account level upgrade that members will receive after purchasing.
OTO 2 Settings – This is where you edit the settings for the One Time Offer 2. Change the price, advertising amounts and account level upgrade that members will receive after purchasing.
Offer Page 1 – Change the settings for the offer 1 page. Use for special upgraded accounts or special ad packages that members can buy.
Offer Page 2 – Change the settings for the offer 2 page. Use for special upgraded accounts or special ad packages that members can buy.
Offer Page 3 – Change the settings for the offer 3 page. Use for special upgraded accounts or special ad packages that members can buy.
Offer Page 4 – Change the settings for the offer 4 page. Use for special upgraded accounts or special ad packages that members can buy.
List of features and tools that members will have access to with the Ad Board Script.
Check out the Live Membership Site
Free Membership – Members can signup free and have the chance to upgrade their accounts to higher levels or buy advertising.
Post Free Ads Daily – Members can login to their accounts and post ads every day for free.
Premium Advertising – Members can purchase premium ads in yellow or autopost ads, hotlink ads, login ads plus more!
AutoPost Ads – Members can now set up an ad once and then it gets posted automatically every day to the ad boards.
Member Profile Box – Members can add their top 5 favorite links, a photo, facebook, twitter and blog links plus favourite 468×60 and 125×125 banners.
Free Promo Codes – Members receive a free welcome promo code giving them hotlink and banner ads. This gets members excited and signing up to the site.
Easy To Promote  – Members have instant promotional emails, banners, tweets plus more tools to easily promote your site.
Referral Link Cloaker – Members get access to a link cloaker so they can cloak and track hits to their links.
Link Rotator Tool – Members can add links using the link rotator tool. Allowing one link to rotate several different URLs.
Instant Affiliates – Members are instant affiliates with a unique URL and can earn commissions for promoting and getting sales.
Cut & Paste Tools – Affiliates get easy to use cut and paste code for the promo banners and emails.
Banner Preview – Members can preview banners when they set them up.
Save Ads – Members can save their ads, which enables them to setup easily next time.
Referral Tracking – "Came From" feature under "Tools & Stats" showing members where their referrals are coming from
Downline Builder – Members can signup and add their URLs to the Downline builder.
Automatic Upgrades – Members are upgraded automatically and advertising is added automatically.
One Account Only – The script only allows 1 unique IP address to signup – preventing fraudulent signups.
Auto Account Deletion – All emails contain an instant account deletion link! This will save you and your members time if anyone wants to delete their account.
Forgot Password – Forgot password feature on member login page.
Verified Accounts Only – Members cannot use website until they have verified their account.