Description
*New Custom Product Creator Mod
Please note: Your site must have the Payment Mod installed first before this mod can be installed.
Create unlimited custom product pages with this great new add-on to the Payment Mod.
See a product page created with this mod CLICK HERE
You can set the page so anyone can see and buy the product.
Create custom ad packages, sell ebooks, sell your services, the ideas are endless.
*This mod addon is only available with the Deluxe mod version.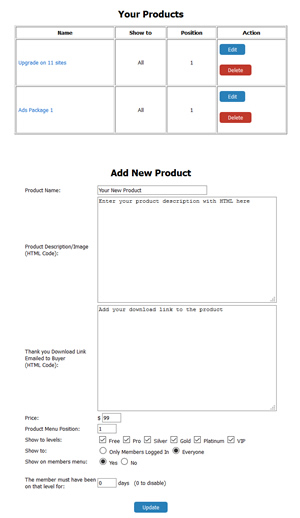 Get the Custom Product Creator Mod Setup Now

Get this brand new Custom Product Creator Mod is available too easily create a new product page with a payment button.
Simply enter the HTML content for your product and a price.
Click the button below to order now and get this mod added to your site.
One time payment of just $50