Description
Mod Examples:
Click here to see a live example on a membership site. Or you can also see it in action on this page, bottom left corner.
Popup Box
Your membership site will have a small overlay box in the bottom left corner telling users to accept cookies. (The cookies for this box stay for 30 days, so if they revisit after then or clear their browser cache then they would need to re-accept.)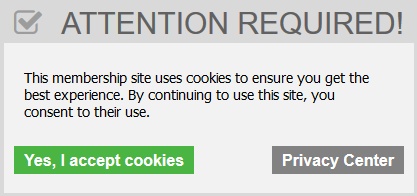 Privacy Center
After accepting cookies, a small floating button will show bottom left corner of your site.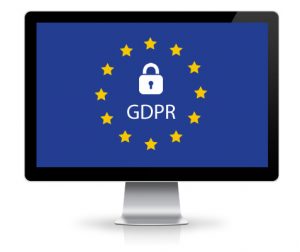 Clicking this will access the Privacy Center displayed in a popup box. It contains all of your membership site terms, policies and the necessary forms for erasing and requesting data that are essential for GDPR compliance. The content will be customized and embedded with your domain name, site title, admin email address and your name as the required Data Protection Officer.
Cookie Policy
Privacy Policy
Terms & Conditions
Data Request
Data Erasure
Spam Policy
What is GDPR?
Unless you've been offline for the last few months, the chances are you've heard of something coming from the European Union (EU) called GDPR.
GDPR stands for "General Data Protection Regulation".
It is a new set of rules governing the privacy and security of personal data laid down by the European Commission. The new single data protection act will make major changes to all of Europe's privacy laws and will replace the outdated Data Protection Directive from 1995. GDPR laws have been designed to give power back to citizens over how their data is processed and used.
Under the new rules, individuals have "the right to be forgotten", meaning they will be able to request that businesses delete their no longer necessary or accurate personal data. D-Day for GDPR compliance was May 25th 2018.
Because this is an EU law, don't let that make you think it doesn't apply to you – it does, regardless of where you are in the world (unless you want to prevent the 500 million people in the EU from visiting your site or buying from you).
It's complex.
It's full of legalese.
It's a cash cow for high paid lawyers and compliance companies.
But still…..you cannot ignore it.
I know that you are probably like me….you want to run your business and not spend time in some boring new regulation, so dealing with GDPR is not fun, but it is a necessary evil. (although I know a lot of online friends who are just RISKING it, due to the complexities of complying!)
You've probably been getting all sorts of updates from big brands and sites, and this is why – it must be taken seriously.
If you do not comply with it, you can be subject to huge fines, regardless of where you are in the world. If you ignore this, you risk your business – it's that simple.
Even more importantly, global payment providers like paypal put huge emphasis on compliance with laws where their users operate, and anyone not toeing the line could easily find themselves no longer welcome.
So….where does that leave you?
In need of a GDPR solution.
And I have that solution for YOU!
Get The Popup Policy Center Mod Setup Now
One time payment of just $15