Hold Referral Contests to Generate Viral Traffic to Your Site
So what is a referral contest?
A referral contest is simply holding a contest to see who can refer the most members to your membership site. Your membership site from CustomMembershipSites.com will have a built in affiliate program that all members are instantly a member of and can start promoting your site with a selection of banners, text ads, email ads and other tools making it easy for them to promote.
Affiliates will earn a commission based on their membership level, for all sales and upgrades they send to you, so they will be happy to promote your site. Some members will want to earn more so they will upgrade their accounts to a higher level giving them a higher commission level.
Getting traffic, sign ups and sales to your membership site is made easy when you hold referral contests. Encourage your members to promote your site and watch your membership base increase! When holding referral contests, give away ad packages or even better.. cash to winners! Giving away cash prizes will get your members happily promoting your site. A successful site always has new members joining daily.
If you are launching your site for the first time then you definitely want a referral contest setup and it be the first thing you let you new members know about in the members area or the front page of your site. Referral contests create a viral effect.. members will get referrals and then their referrals will start promoting and getting even more referrals. It really is one of the best ways to build your membership base and create a successful membership site.
Top Tips on How to Run A Referral Contest
Have cash prizes – People will promote like crazy if they can win cash
Set an end date or once you reach a membership number
Always have a site launch referral contest when launching your site
Have rules in place to stop cheaters and spammers
Have a minimum referral amount for some prizes
Give away ads packages or account upgrades
Instructions for setting this up on your membership site:
Step #1: Edit the Start Date
Goto your '*Main Site Settings' and enter the start date for your referral contest [Year-Month-Day]. This will activate the referral contest counter on your contest page and show members who have referred other members

Step #2: Edit the Contest Page Details
Goto the 'Edit Pages' section and edit the html for the referral contest page to reflect your contest details. Include the start and end times whether this be a date or amount of members on your site. Add the prizes, the amount of winners and what they will win.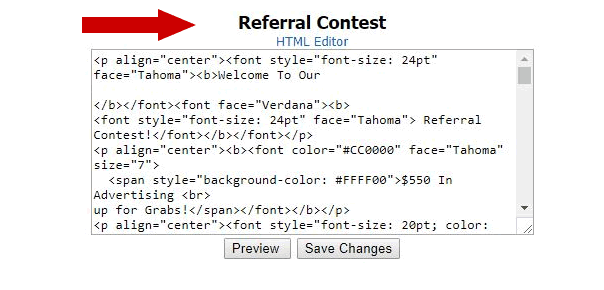 Step #3: View Your Contest Page
Go to your contest page to check it out and see how it looks when you have finished editing. The contest page is usually located at this URL: http://www.yoursite.com/contest.php
Step #4: Award Prizes when the Contest Ends
When the referral contest ends. You will need to manually add the prizes and advertising to the winners account. You can then email them and let them know the have won! Or, add a screenshot of the winners to the referral contest page. Email all members and let them know who has won and to check out the page to see the winners.